Continuous carbonization furnace
is a horizontal rotary carbonization machine employed to make charcoal powder (charcoal dust) from powdered raw material such as sawdust, wood chips, crushed straw, stalk, peanut shell, coconut shell, etc.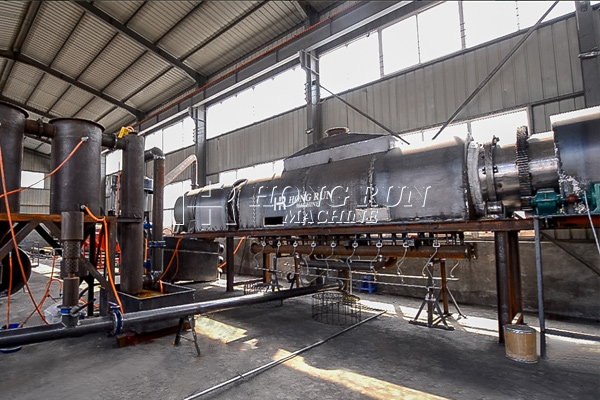 Continuous carbonization furnace which also called horizontal rotary carbonization machine use gasification carbonization principle. The advanced smoke-free environmentally friendly continuous carbonization furnace carbonization process: the entire equipment from the gasification system (gasifier, spray tower, dust collector), purification system Leach, oil and water separator, filter), carbonization system (carbonized host, screw feeder, screw feeder, cooling machine, conveyor, finished cooling warehouse), control system (control cabinet), the entire carbonization process for automated production, automated operation.
Hongrun series machine have wood crusher, sawdust dryer, charcoal molding machine, carbonization furnace and can sucessive deal with material until finishing moulding charcoal products. The raw materials of finishing moulding charcoal products come from wood, coconut shell, bamboo, straw, grain shell and so on. Besides meeting the requirements of the domestic market, our products are also well-received in foreign market.