Welcome to HONGRUN Machinery

charcoal powder forming machine

Introduction:
This charcoal machine called charcoal rod machine, which can press and form/mould charcoal powder into square charcoal rod and cyclindrical charcoal bar, or charcoal rod with a hole in the middle. Hongrun charcoal rod machine is mainly used to deal with charcoal dust, broken charcoal briquette and unqualified charcoal.

The other material can be processed by this machine is coal powder. Coal rods from this machine have high density and smooth surface.
P.S. All kinds of biomass materials can be converted into charcoal powder, then into different charcoal briquettes. Learn More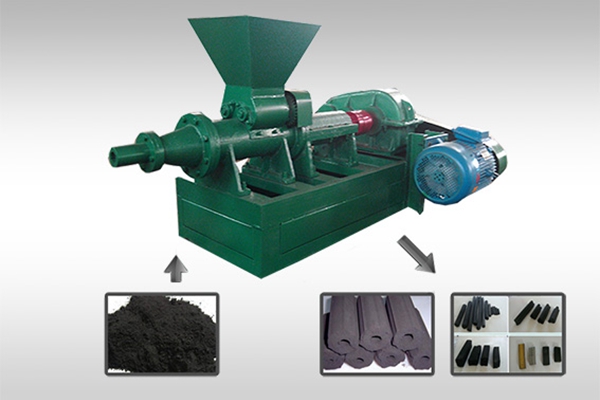 Hongrun carbon moulding machine is characterized by:
1, moulding after carbonization, simple process flow;
2, the working time of wearing parts is extented to 4000 hours;
3, with a 60% reduction in electricity costs;
4, production increased 2-3 times;
5, cost decrease 200 yuan per ton charcoal;
6, easy operation;
7, higer charcoal quality;
8, charcoal content is increased from 60% to 70-75% of weak carbon content charcoal; more than 83% carbon content of standard carbon content charcoal;
9, working material: charcoal powder, unqualified charcoal and coal.

Welcome your inquiry! When you send us E-mail, please tell us the machine name you are interested and the raw material you have, so that we can recommend you with suitable machine and good price, thank you.
| Model | HR160 |
| --- | --- |
| Power | 7.5kw |
| Capacity | 300-500kg/h |
| Weight | 850kg |
| Size | 1.13*0.63*1.23(m) |