Wood chip rotary dryer
is used widely for material drying. The drying cylinder has a certain angle against the horizontal level and rotates while running. After putting the wet materials into one end of the rotary dryer, the materials are dispersed uniformly and formed a material curtain in the cylinder to contact the hot air thoroughly which makes heat exchange to achieve material drying. At the same time, under the force of declining lifting board and hot air, the materials move to the rear of the dryer, finally unload the finished product.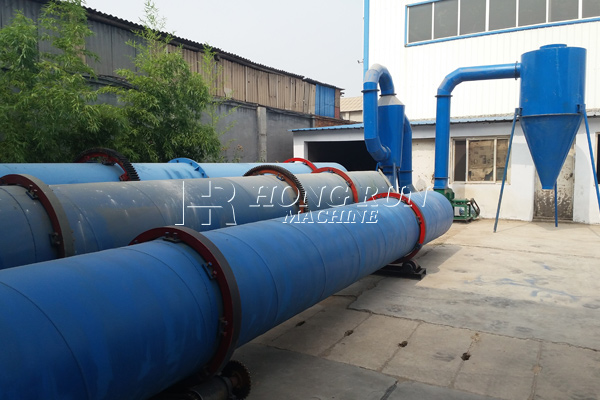 Main features of wood chip rotary dryer:
1. Large production capability, continuous operation.
2. Simple structure, convenient operation, running smoothly.
3. Small fluid resistance while the material and hot air through the cylinder, which makes a lower energy consumption;
4. Wide application range. Wood chip rotary dryer can be used for drying granular materials, especially benefit for those materials with big adhesion.
Hongrun series machine have
crusher
, drier, charcoal molding machine, carbonization furnace and can successive deal with material until finishing molding charcoal products. If you are interested in continuous operation wood chip rotary dryer, please do not hesitate to contact us, we will offer you best service.