Sugarcane bagasse charcoal making machine
compress sugarcane bagasse under high pressure and high temperature. After the processing of drying and pressing, the bio-fuel briquette is characterized by high density, small in size, better combustion, capable as the substitute for the superior coal or firewood.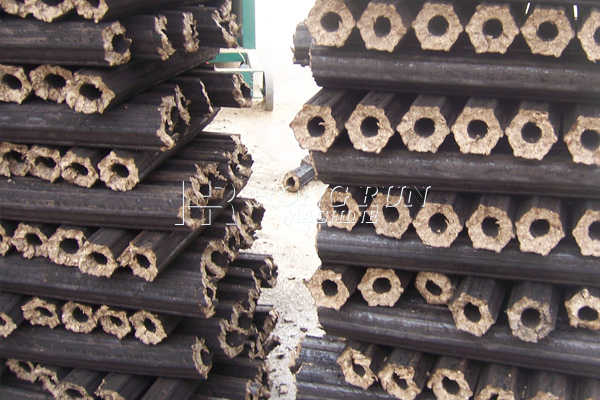 This bio-fuel briquette is 45-80mm in diameter, occurs in the hollow quadrangular or hexagonal cylinder or hollow hexagonal with a 15-20mm hole through the body.
The available shape: square, hexagonal, pentagon, pentagon with edge, hexagon with edge.
The available diameter could be: 50mm,60mm,.70mm.80mm and so on.
The available length could be: 20cm,30cm, 40cm, 50cm.
The feature of the final product: Specific gravity: 1300—1900kg/m Calorific value: 4500—5000kcal/kg.
Advantages of sugarcane bagasse charcoal making machine:
- Higher charcoal yield.
- Rapid carbonisation.
- Industrial chemicals and heat energy can be recovered from the smoke given off during carbonisation.
- Recovering from the smoke, so there is less pollution to the environment.
Hongrun series machine have crusher, rotary dryer,
charcoal molding machine
, carbonization furnace and can successive deal with material until finishing molding charcoal products. If you are interested in Sugarcane bagasse charcoal making machine, please do not hesitate to contact us, we will offer you best service.