Rotary dryer
is widely used for drying materials in the industries of cement, mine, contruction, chemical, food, compoud fertilizer, etc. Feeding and discharging unit is installed with thermocouple to control drier temperature. The temperature change of drier's feeding end can be indicated by the thermometer to control the inner drier temperature (generally 250-350°C).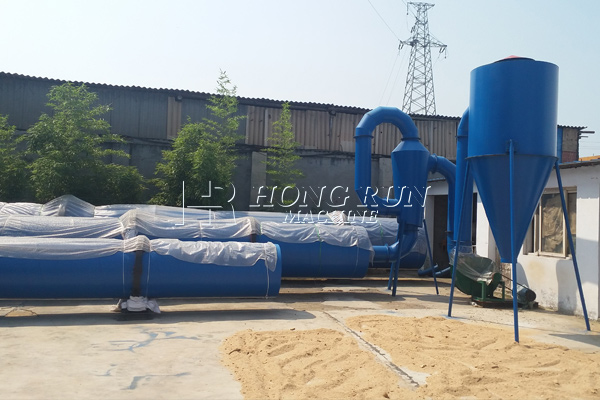 Hongrun rotary dryer is a charcoal raw material drying equipment used for drying sawdust, grain, bagasse, bamboo, and other high moisture materials. It can dry the crushed raw materials quickly with high capacity in charcoal production line.
Hongrun
rotary dryer
adopt twice circulate heating system, is our newly developed advanced drying equipments, and show the features of automatic feeding, high hot airflow speed, fully mixing of airflow and materials, big drying strength, lower dust and bigger drying capacity. Moisture in the raw materials of less than 40% can be drying one time to meet the requirement for charcoal bar production, which greatly reduced the labor intensity compared with commonly used drier.
Hongrun series machine have crusher, rotary dryer,
charcoal extruder machine
, carbonization furnace and can successive deal with material until finishing molding charcoal products. If you are interested in wood branches charcoal making machine, please do not hesitate to contact us, we will offer you best service.
E-mail: sales@cnhrmachinery.com