Hongrun series machine have wood crusher, sawdust dryer, charcoal moulding machine, carbonization furnace and can sucessive deal with material until finishing moulding charcoal products. The raw materials of finishing moulding charcoal products come from wood, coconut shell, bamboo, straw, grain shell and so on.
Rotary tablet press machine can be used for pressing charcoal powder into round shape charcoal tablets for shisha charcoal. The speed of the turntable, the filling depth of the material, and the thickness of the tablet can be adjusted.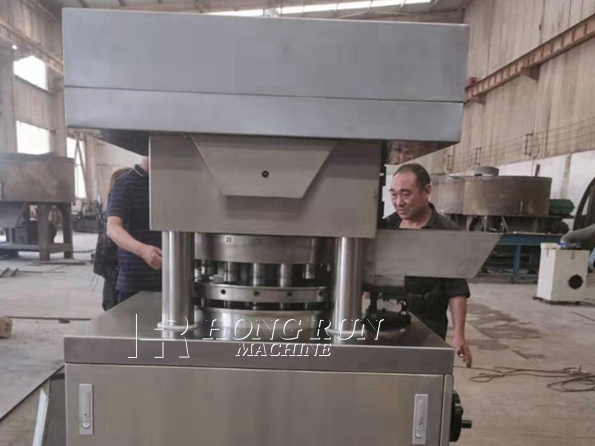 All controllers and operating parts of rotary tablet press machine are well laid out. The frequency control device is used for electric speed regulation, which is convenient to operate, stable in rotation, safe and accurate. All transmissions are placed inside the machine to keep the parts clean. Rotary tablet press machine is Equipped with overload protection device, it can automatically stop when the pressure is overloaded. Rotary tablet press machine is equipped with an electromagnetic brake motor and other safety protection devices, which can be adjusted and operated during operation.
Hongrun Machinery is a well-known rotary tablet press machine manufacturer. We design rotary tablet press machine by our own innovative ideas, innovate rotary tablet press machine, improve design process, greatly improved the production capacity, thus provide cost-effective rotary tablet press machine and professional technical guide to our customers.
Hongrun rotary tablet press machine have been exported to United States, Pakistan, Mongolia, Russia, South Africa, Middle East, Turkey, Malaysia, India, and European Union. For more information, please view our website or contact us via the following Email.