Hongrun series machine have wood crusher, sawdust dryer, charcoal moulding machine, carbonization furnace and can sucessive deal with material until finishing moulding charcoal products. The raw materials of finishing moulding charcoal products come from wood ,coconut shell,bamboo,straw,grain shell and so on. Besides meeting the requirements of the domestic market, our products are also well-received in foreign market.
Wood crusher for making sawdust is also called sawdust making machine. Wood crusher for making sawdust combines both chipping and crushing in one machine making sawdust in one passage and there is no need to use wood chipper for preprocessing of wood logs.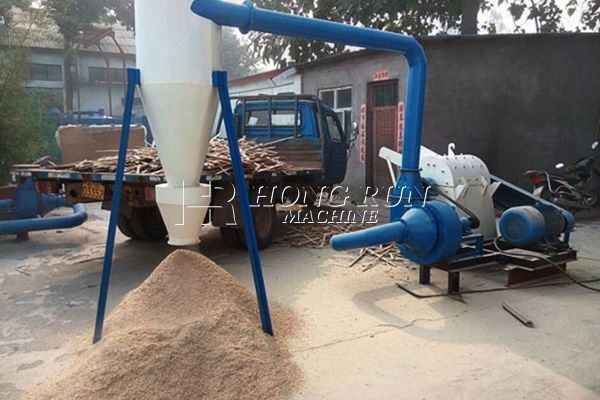 Raw material:
Pine, hardwood, poplar, pine, bamboo, branches, leaves, tobacco stems, shells, calcium and other materials, more suitable for mushroom culture medium wood machining. Meanwhile, the device can also be used bamboo, grass, corn stalks, corn cobs, sorghum stalks, newspaper, cardboard boxes, cardboard-like material such as fibrous stalk and particleboard chips, sawdust board high-density material production.
Wood crusher for making sawdust is advanced grinding equipment, it in the absorption of a variety of mill basis of merit, full use of impact, shear, impact each other, grinding and other theories of well-developed.
Features:
When wood crusher for making sawdust at work, the material in the crushing cavity full and effective crushing, high output, low energy consumption, high efficiency, crushing the material evenly. And during the using of the device, there is no noise, no pollution, simple operation, easy maintenance.
Application fields:
When wood crusher for making sawdust is suitable for mobile operation, widely used in particleboard and fiberboard production of small and medium enterprises preparation steps can also be used for the self-employed for production of wood products.
Hongrun is a professional wood crusher supplier. We design wood crusher by our own innovative ideas, innovate wood crusher, improve design process, greatly improved the production capacity, thus provide cost-effective wood crusher and professional technical guide to our customers.
With excellent durability, best service, Hongrun wood crusher get praise at home and abroad, and our products has exported to the United States, Pakistan, Mongolia, Russia, Vietnam, Malaysia, India, Australia, Korea, Canada and European Union.
For more information, please view our website or contact us via the following Email.