Wood crusher for making sawdust is also called sawdust crusher, wood crusher. Wood crusher for making sawdust can crush wood logs, wood block and wood waste into sawdust and granular with different fineness.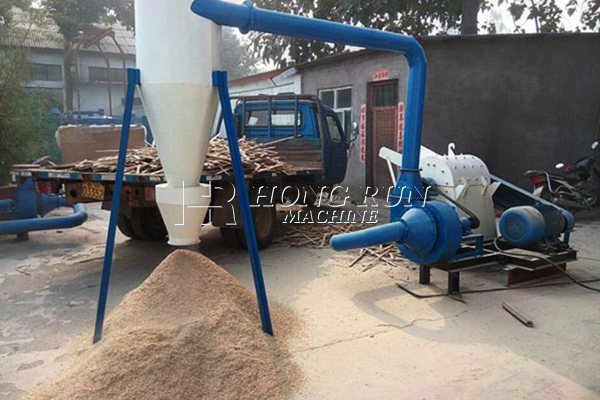 The wood crusher is driven by the motor and pulley, and the main spindle rotates rapidly with hammerheads on the shaft impacting the materials and get material crushed.
Features of wood crusher:
1. Fine crush: 85% of the particle size can be controlled within 3mm.
2. High-efficient and energy-saving: power saving 40% of equivalent output.
3. Long service life: The hammer heads are made of high-strength alloy materials with multiple metal elements thus to prolong the service life by 4 times.
4. Good crushing ratio: The wood crusher can be also used as both primary & secondary crushing for clinkers and secondary & tertiary crushing for limestone.
5. Easy maintenance: The rear cover of the upper machine frame can be hydraulically (hand)-opened to make the maintenance much easier.
Hongrun is a professional wood crusher supplier. We design wood crusher by our own innovative ideas, innovate wood crusher, improve design process, greatly improved the production capacity, thus provide cost-effective wood crusher and professional technical guide to our customers.
With excellent durability, best service, Hongrun wood crusher get praise at home and abroad, and our products has exported to the United States, Pakistan, Mongolia, Russia, Vietnam, Malaysia, India, Australia, Korea, Canada and European Union.
For more information, please view our website or contact us via the following Email.