On March 28, 2021, Hongrun Charcoal Production Line exported to Zambia. Below is the production line ready to Guanggou Port where Forwarder will arrange packing.
The Zambia customer purchased Sawdust Briquette Making Machine, Pellet Machine, Wood Carbonization Furnace, Packing Machine and Crane.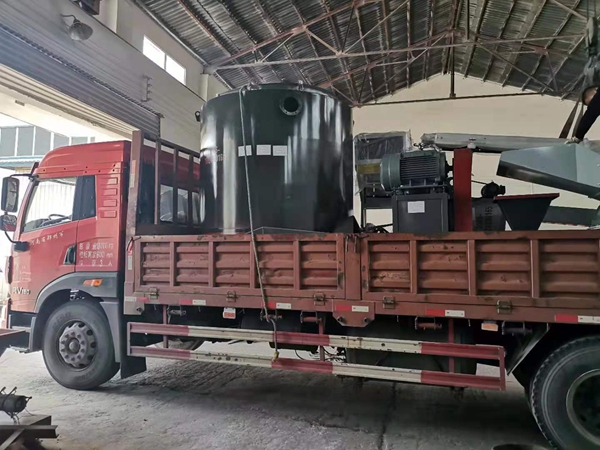 Hongrun sawdust briquette making machine can press the dryed sawdust into regular shapes rods, according to the high pressure, high temperature to make it.
The raw materials could be the wood sawdust, rice husks, rice stalks, sugarcane bagasse, peanut shell, coconut shell, wood branches, paddy straw etc.
After carbonization by wood carbonization furnace, users can get rod charcoal rods.
Carbon powder pellet molding machine is also known as pellet feed machine, pellet feed molding machine. It is a feed processing machine that directly compresses granules with pulverized materials such as carbon powder, corn, soybean meal, straw, grass, rice husk, etc.
Packing machine is suitable for automatic packaging of various granular materials such as granules, monosodium glutamate, oatmeal, desiccant, and three-in-one coffee, sesame paste, soy milk powder, jelly strip paste and other powder materials with good fluidity.
Hongrun series machine have wood crusher, sawdust dryer, charcoal molding machine, carbonization furnace and can successive deal with material until finishing molding charcoal products. The raw materials of finishing molding charcoal products come from wood, coconut shell, bamboo, straw, grain shell and so on. Besides meeting the requirements of the domestic market, our products are also well-received in foreign market.

Hongrun charcoal machine have been exported to United States, Pakistan, Mongolia, Russia, South Africa, Middle East, Turkey, Malaysia, India, and European Union. For more information, please view our website or contact us via the following Email.

Related Product: Packing Machine
E-mail: sanchez@cncharcoalmachine.com
Whatsapp: 008618624980165