Welcome to HONGRUN Machinery
Annual Output 1,000t Charcoal Production Line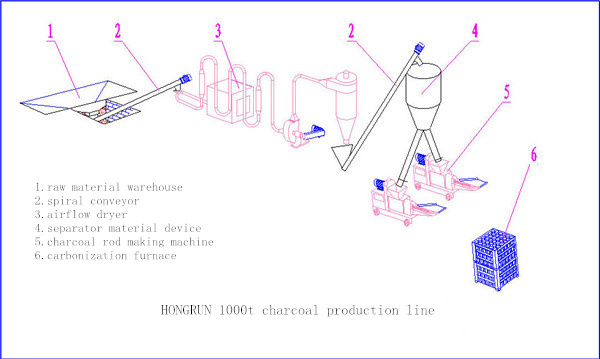 The raw materials for charcoal production can be straw, twigs, bark, scraps of furniture factory, sawdust, bamboo sawdust, peanut shells and corn cob. It is a good thing for environment protection and the reuse of agriculture wastes are also advocated by the government. Hongrun has developed a new set of charcoal production line, which helps a lot on environment protection.
Introduce to Hongrun charcoal production line with annual output of 1,000 tons
The charcoal making equipments can crush the materials into particles with size within 10mm, get the particles dried, then mold the materials into shapes and last get the formed material carbonized in the carbonization furnace. The charcoal produced by Hongrun charcoal equipments has the following features: big density, small size, good flammability, and it can totally replace firewood and coal. The product is especially suitable for the cold region for daily life heating, greenhouse heating or for normal household fuel.
Charcoal equipments for annual output of 1,000 tons charcoal production line
The charcoal equipment includes crusher(grinder), dryer, rods machine, carbonization furnace and auxiliary equipments. And the charcoal production process can be material crushing, drying, rods molding and carbonization. The rods machine and dryer are the main equipment for the charcoal manufacture. Hongrun dryer has the advantages of automatically feeding, one time fully drying, no material loss in feeding port or discharge port and it can suport 4 rods machine production at same time. Hongrun rod machine(log machine) has automatic temperature control system which controls rod density. With this technology, the quality of rods/logs can be guaranteed. Materials like branches, leaves, sawdust and other agricultural products are viable for charcoal production, and the final product can even replace coal, so people called this new fuel "straw coal''.
The operation flow of charcoal production: material collection--material cutting--feeding(automatically metal removal)--press--molding--extrusion--cooling--transport--civil use or small boilers--biomass power plant.

Hongrun series machine list: wood crusher machine| straw crusher machine cost| wood chip crusher| wood powder machine crusher mill pulverizer| hammer mill crusher| charcoal pulverizer crusher| chicken manure drying machines| grain dryer machine| rotary dryer installation| tumble dryer air pipe| air pipe dryer in China| sawdust dryer for sale| mineral rotary dryer| box type dryer machine| charcoal rod making machine| charcoal ball making machine| charcoal tablet press machine| charcoal briquette extruder machine| hoisting type carbonization furnace| palm fiber rotary carbonization furnace| coconut shell charcoal carbonization Furnace| biomass sawdust dryer| BBQ charcoal equipment| environmental protection carbonization furnace| hookah charcoal making machine| charcoal machine equipments| mechanism charcoal machines| charcoal machines price| straw rod making machine| charcoal powder tablet press machine