Hongrun series machine have wood crusher, sawdust dryer, charcoal molding machine, carbonization furnace and can sucessive deal with material until finishing molding charcoal products. The raw materials of finishing molding charcoal products come from wood, coconut shell, bamboo, straw, grain shell and so on.
Rotary shisha charcoal machine is a single pressure type continuous automatic tablet press machines, for pressing granular raw materials into tablets. It is mainly used for batch production with high output.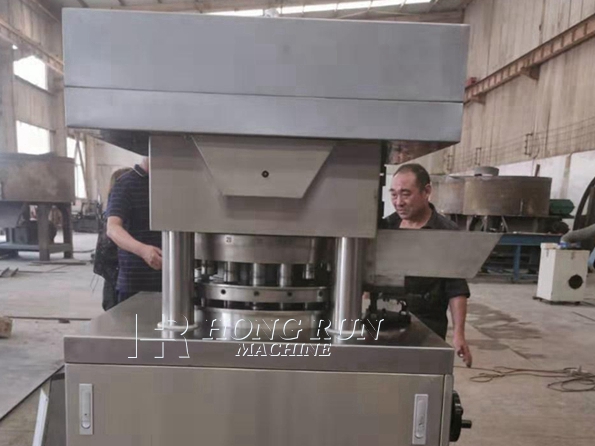 The cover of rotary shisha charcoal machine is made of stainless steel with close type. The inner tablet surface is also applied with stainless steel materials which could keep surface luster and prevent from being polluted crossly, comply with GMP requirement.
Rotary shisha charcoal machine is equipped with plexiglass perspective window which could help to observe the status of pressing piece. Side blank could be fully opened, easy to clean and maintain.
All monitors and operating components are in good order.
Rotary shisha charcoal machine apply with frequency changing, speed regulating apparatus to do electricity regulation. The convenient operation and smooth revolving are safe and correct.
Rotary shisha charcoal machine is equipped with over-load protection apparatus. When pressure overloads, the machine will stop automatically.
Rotary shisha charcoal machine is mainly used in pharmaceutical and chemical, food, electronic industries and so on.
Hongrun rotary tablet press machine have been exported to United States, Pakistan, Mongolia, Russia, South Africa, Middle East, Turkey, Malaysia, India, and European Union. For more information, please view our website or contact us via the following Email.