Charcoal rod machine can compress bamboo, wood, shells, straw and other waste powdery materials into stick-like materials. After carbonization, users can get rod charcoal product.
Raw material can be sawdust, wood branches, wood, wood residues, rice husk, sunflower shell, peanut shell, corn stalk, straw, bamboo, cotton stalk, coconut shell, olive waste, furfural dregs, bagasse, corncob, corn stalk, shurbs or other agricultural wastes.
How does the charcoal rod generated? The raw materials are crushed into powder firstly. Then the motor transfers the powder to the transmission through triangle belt, then the output shaft on the transmission transfers the power to the propeller shaft, finally the propeller on the propeller shaft pushes the powder into the mould and out, then the ideal high pressure charcoal rod is generated. This process is very simple, and it's easy to operate.
Here is the charcoal rod machine automatic cutting test in Gongyi Hongrun Machinery Factory. The test is successful.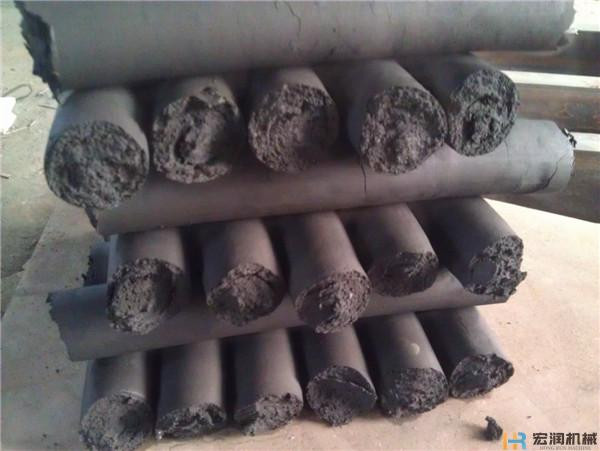 Professional charcoal rod machine manufacturer – Gongyi Hongrun Machinery Factory design charcoal rod making machine by our own innovative ideas, innovate charcoal machine, improve design process, greatly improved the production capacity, thus provide cost-effective charcoal rod making machine and professional technical guide to our customers
For more information, please view our website or contact us directly.

Web: http://www.cnextrudermachine.com
E-mail: sales@cnhrmachinery.com

Hongrun series machine list: wood crusher machine| straw crusher machine cost| wood chip crusher| wood powder machine crusher mill pulverizer| hammer mill crusher| charcoal pulverizer crusher| chicken manure drying machines| grain dryer machine| rotary dryer installation| tumble dryer air pipe| air pipe dryer in China| sawdust dryer for sale| mineral rotary dryer| box type dryer machine| charcoal rod making machine| charcoal ball making machine| charcoal tablet press machine| charcoal briquette extruder machine| hoisting type carbonization furnace| palm fiber rotary carbonization furnace| coconut shell charcoal carbonization Furnace| biomass sawdust dryer| BBQ charcoal equipment| environmental protection carbonization furnace| hookah charcoal making machine| charcoal machine equipments| mechanism charcoal machines| charcoal machines price| straw rod making machine| charcoal powder tablet press machine